Shopping Cart
Your Cart is Empty
There was an error with PayPal
Click here to try again
Thank you for your business!
You should be receiving an order confirmation from Paypal shortly.
Exit Shopping Cart
Councillor Antonella Celi
Seawinds Ward - Mornington Peninsula Shire
Support for the SMP Caroline Chisholm Scholarship Program -
paving the way to education and employment
I am very proud to support the SMP Chisholm Scholarship program that gives the Gift of Education to people across all ages and who are the most vulnerable in our community.
Facing severe financial hardship, the students have had no other way or means to enter into vocational education or personal development pathways.  Thankfully, that is when the SMP Program comes in to play a pivotal role in turning their lives around.
The Caroline Chisholm scholarships have so far funded the education costs and expenses for over 275 local students on the southern Peninsula, Westernport and the Peninsula.
A long time supporter of the program I have heard from many of the students who have received the scholarships and gone on to find a field of study and work that is meaningful.  Their personal stories of hardship and overcoming the many challenges are very moving and yet so inspiring.
Many students describe the true value of what these scholarships mean to them - and it isn't just about the $$ value which they are thankful for - but it's also about the sense of value, hope and opportunity they receive from being supported by our community in receiving an education
The funding for these scholarships is made possible through a partnership made up of the SMP Connect with the Caroline Chisholm Foundation, Chisholm Institute, the MP Shire, local business, community organisations and individual benefactors who donate generously to make funds available for the scholarships offered.
It has been a privilege to supprt the SMP Chisholm Program through the Council budget process with an allocation of $40K
You too can help provide opportunity for those who need it and break the generational cycle of poverty by encouraging pathways to employment opportunities.
Find out more about the program and how to make a donation at this link www.givenow.com.au
"The Caroline Chisholm Education Foundation is extremely grateful for the financial support they receive from the Mornington Peninsula Shire and in particular from Antonella Celi. We provide financial scholarships for students studying at Chisholm TAFE and with Antonella's incredible support we have been able to provide grants for 100% of eligible applicants on the Mornington Peninsula.  Antonella has an amazing insight of the Mornington Peninsula community, its challenges and the importance that access to education and training can help develop a vibrant and prosperous community." 
-Robyn Campbell - Executive Officer, Caroline Chisholm Education-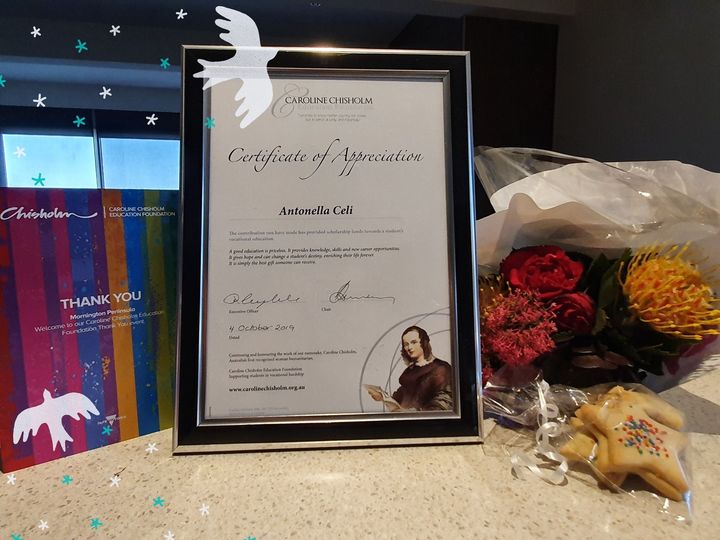 Categories: Education, Training and Employment, Election 2020 Candidate Alerts
/