Shopping Cart
Your Cart is Empty
There was an error with PayPal
Click here to try again
Thank you for your business!
You should be receiving an order confirmation from Paypal shortly.
Exit Shopping Cart
Councillor Antonella Celi
Seawinds Ward - Mornington Peninsula Shire
 Local Farm Gates and State planning legislation restrictions 
Farm Gates on the Peninsula showcase the best local, fresh produce grown on the Peninsula and the MPP Authentic Provenance Trademark  of registered users guarantee that consumers are purchasing food grown, bred and raised on the Mornington Peninsula.
Barriers for Farm Gates
A signficiant barrier for the Farm Gates on the Mornington Peninsula is that current Green Wedge legislation established by the State Government clearly says that Farm Gates must only sell produce grown on their land or adjacent land.selling 'retail' products is expressly prohibited in the Green Wedge .
It has always been my view that the current rules limiting growers from selling local produce at a Farm Gate in another location within the Peninsula are antiquated and creates a conflict in promoting long term Farm Gate viability.    This needs to change...
The Victorian Government's review into "Planning for Melbourne's Green Wedges and Agricultural Land"
The State Government is currently reviewing the planning controls for the Green Wedge for long term sustainability. 
Workshops with stakenolders have been held for the State to develop a planning response paper but for some reason have stalled on putting the paper out for public exhibition.  Further details can be found at engage.vic.gov.au/gwal.  
The point of the review of the definition of Primary Produce Sales within the Green Wedge has been impressed upon in the Council report of 14th September 2020, which I was  was more than happy to support the following actions:
that the State Government immediately begin consultation on the outcomes of the "Review on Planning for Melbourne's Green Wedges and Agricultural Land Project.
Shire advocacy to the State for strong consideration to Farm Gate provisions that provide the best support for our local growers and farmers.
It is through these strategic State Planning reviews that Council can make a difference and I am committed to impressing this point through further submissions and advocacy to bring about change to make it easier for our Farm Gates to trade  their produce intra-Peninsula.
Support for our Farm Gates on the Peninsula
The Shire has developed a Farm Gates Operation Brochure that outlines the products that are permitted to be sold at a Farm gate in line with the current State Planning Scheme for the Green Wedges as well as the Shires Green Wedge Management Plan and that includes:
1. Primary produce grown on the property
2. Primary produce grown on adjacent properties
3. Processed goods made substantially from the primary produce of 1) and 2).
Note: Retail products and food not produced locally are not permitted to be sold at Farm Gates in accordance with the State Planning Legislatiom.   This prevents Farm Gates from becoming a quasi-supermarket in the Green Wedge.  To contradict this legislaation can potentially lead to  compliance issues for the Farm Gate in question.
Donwload a copy of the Farm Gates Operation brochure here: https/: www.mornpen.vic.gov.au/About-Us/Business-Economy/Agricultural-Matters#section-4
Where on the Peninsula you buy local fresh food through Farm Gate sales
I am committed to supporting our Farm Gates, Community Gardens and food security programs so that people have access to fresh, local, affordable food that is essential to our health and wellbeing.
Discover our local Farm Gates at this link:  https://www.mornpen.vic.gov.au/Activities/Whats-On/Local-Produce/Farm-gates?fbclid=IwAR0rieWbrxn-ZDTxau3M1FlkFHlrNOZV2_lLOQPSVpr-bmpP8xDHGylKJ_w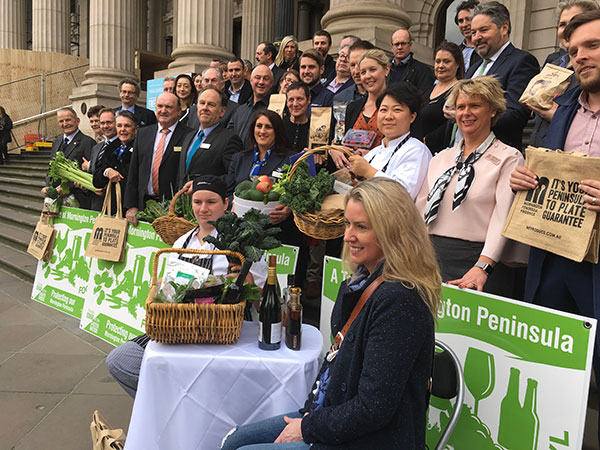 Categories: Agriculture & Farm Gates, Election 2020 Candidate Alerts, Planning
/