Shopping Cart
Your Cart is Empty
There was an error with PayPal
Click here to try again
Thank you for your business!
You should be receiving an order confirmation from Paypal shortly.
Exit Shopping Cart
Councillor Antonella Celi
Seawinds Ward - Mornington Peninsula Shire
MPP Authentic Provenance - Buy Local.  Support Local
The MPP (Mornington Peninsula Produce) Authentic Provenance Trademark  guarantees the identification of food grown,, bred or raised entirely on the Peninsula and gives consumer confidence that they are purchasing authentic Mornington Peninsula produce.
Our Mornington Peninsula boasts an expansive agricultural landscape that has a resilient, agile food economy with local food growers, makers and advocates working together to tackle key issues and opportunities around food production on the Mornington Peninsula in particular in our Green Wedge region.
The value of the industry is in excess of $1.3b per annum in output. This represents approximately 11% of the total shire economy whilst providing 5300 jobs or 12.5% of total employment.

In 2013 the Mornington Peninsula Shire researched and developed a Local Food Strategy that identified the need to establish a FIAB (Food Industry Advisory Board)  that would focus on three key priority areas:
Facilitation of food industry capacity and connectivity activities to ensure local businesses are working together to grow the region's food economy.
Implementation of a Provenance program i.e. Certified Trade Mark (CTM) for businesses to align with and for consumers to identify food of the Mornington Peninsula; and
Development of an industry and consumer driven awareness campaign to build the profile of Mornington Peninsula food.
Through the continued work of the FIAB the MPP Provenance Trademark continues to raise brand awareness of MPP Produce and connect the registered growers to our consumers - local and visitors-  so they can buy direct at Farmgates or through local markets and retailers on the Mornington Peninsula and beyond.
Find out more:
Discover and support who MPP Nework of Registered local growers are at this link: https://www.mpproduce.com.au/
Find out more about the #MPP FIAB and Local Food Strategy Here: https://www.mpbusiness.com.au/business-resources/agribusiness/local-food-strategy/
Farmer's Campaign to protect Agriculture and Green Wedges on the Mornington Peninsula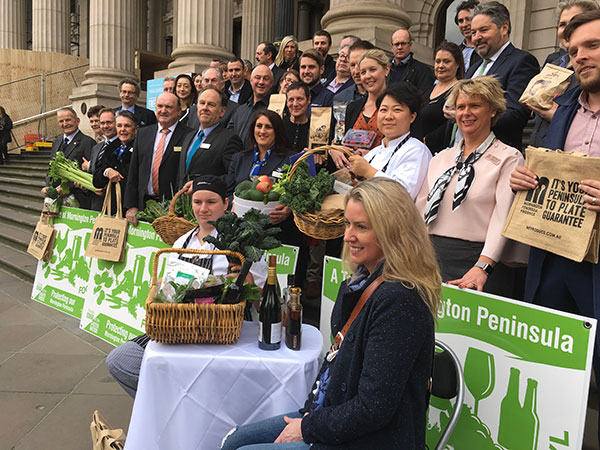 Categories: Agriculture & Farm Gates, Green Wedge, Election 2020 Candidate Alerts
/