Shopping Cart
Your Cart is Empty
There was an error with PayPal
Click here to try again
Thank you for your business!
You should be receiving an order confirmation from Paypal shortly.
Exit Shopping Cart
Councillor Antonella Celi
Seawinds Ward - Mornington Peninsula Shire
To Rate Freeze/Rebate or Not?
The Mornington Peninsula Shire Proposed Budget 2021/22 is now on public exhibition for comment.
The MP Shire proposed budget has taken on the State Government's advice of a 1.5% at CPI rate increase.
A couple of Councillors proposed to freeze rates by applying a 1.5% rebate on the increase.
This was voted down by the Council because:
The two options put before Council on how to apply the 1.5% rate freeze and/or rebate were not financially prudent or responsible and would result in:
$2.3M in revenue lost in one year or
up to $25M loss of revenue for the Shire over ten years
The freeze/rebate would compromise a well balanced budget and compromise $M's of investment towards many projects, grants, capital, priority works and service delivery across the Peninsula
The freeze/rebate would not have been equitable across the Peninsula and would not necessarily go straight to those who would need help the most.
 I want to see a greater return on ratepayer investment for our community emerging out of Covid.
I was not willing to compromise on $2.3M or up to $25M worth of projects I want to see delivered in the Seawinds Ward and across the Peninsula.
I was not going to compromise on $10M worth of investment in a Covid Recovery program that will offer a greater return and benefit for our region.
I would prefer to further help raterpayers through an improved Shire Hardship Policy that could help those who really need it.
More at a glance details in the infographic below to highlight implications of a rate freeze/rebate and why it was prudent to object.
The Proposed Budget 2021/22 is currently on public exhibition and community is welcome to provide feedback at this link:
https://shape.mornpen.vic.gov.au/budget-2021-2022
My debate objecting to the rate freeze/rebate is here: https//youtu.be/Ua03_JGbUl4
Full recording of the Budget deliberations, debate and minutes of the 30th March, 2021 at this link: http//www.mornpen.vic.gov.au/About-Us/About-Our-Council/Council-Meetings/CouncilCommittee-Meeting-Agendas-and-Minutes
Find out how the Mornington Peninsula Shire rates compare to other Councils here: https/knowyourcouncil.vic.gov.au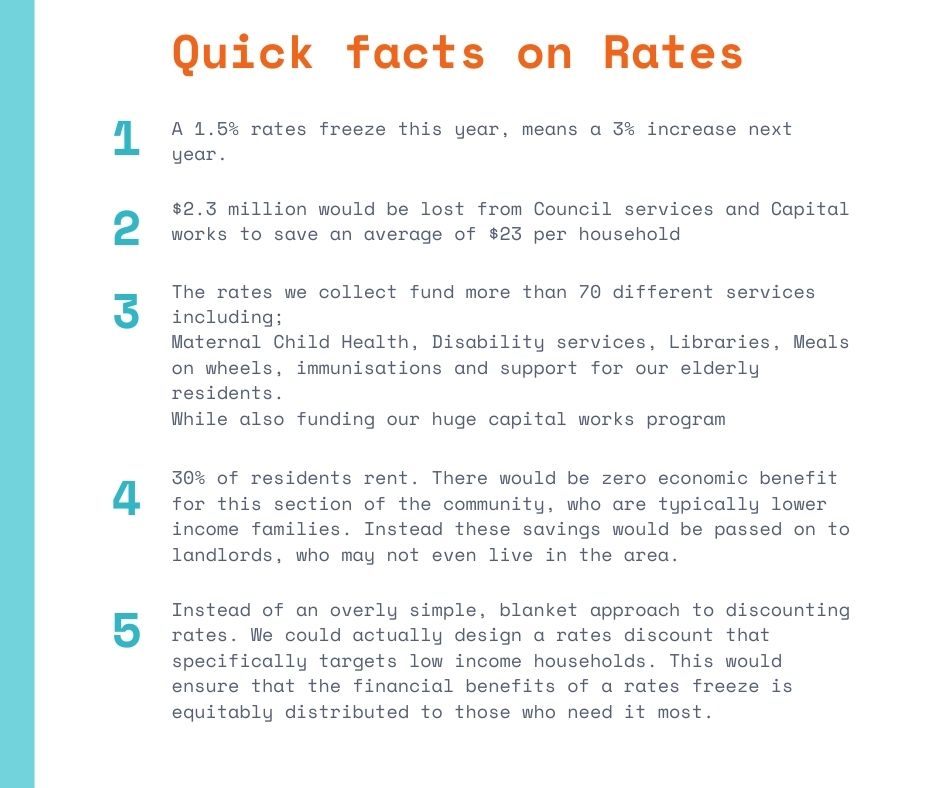 Categories: Rates, Fees, Charges
/