Shopping Cart
Your Cart is Empty
There was an error with PayPal
Click here to try again
Thank you for your business!
You should be receiving an order confirmation from Paypal shortly.
Exit Shopping Cart
Councillor Antonella Celi
Seawinds Ward - Mornington Peninsula Shire
UPDATE: MORNINGTON PENINSULA SHIRE COUNCIL ELECTIONS 2020 
 Mail-out of ballot packs 
Tuesday, 6 October, 2020 to Thursday, 8 October, 2020
 Voting closes - Friday, 23 October, 2020 at 6.00 pm -
mail your vote in before 6pm
ELECTION DAY – Saturday, 24 October, 2020
Postal Vote receipt period:
Monday, 26 October, 2020 to Friday, 30 October, 2020 closes at 12noon
Declaration of Election Result – Friday, 13 November, 2020
BOOKMARK THIS PAGE to find out more about the elections, important dates and who is running as a Candidate across all wards once nominations close on 22 September, 2020
https/www.vec.vic.gov.au/voting/2020-local-council-election/elections/mornington-peninsula-shire-council
 If you don't receive your ballot pack or have questions about election
contact the VEC OFFICE IN DROMANA
Election Manager for the Mornington Peninsula Shire Council election is Julie Allan.
Election Office: An election office has opened at: Shop 13, 143 Point Nepean Rd, Dromana Phone number: 1300 122 917
Opening hours: Election offices will operate on weekdays from 9 am to 5 pm until Wednesday 21 October 2020.
There will be extended hours on:
Thursday 22 October 2020–9 am to 8 pm
Friday 23 October 2020  - 9am to 6pm
IMPORTANT DATES FOR THE ELECTION PERIOD:
All current Councillors go into caretaker mode from Tuesday, 22nd September, 2020 and cease to be Councillors from midnight Friday, 23rd October 2020.
The incoming Council will be declared on Friday, 13th November, 2020 and officially installed in the following week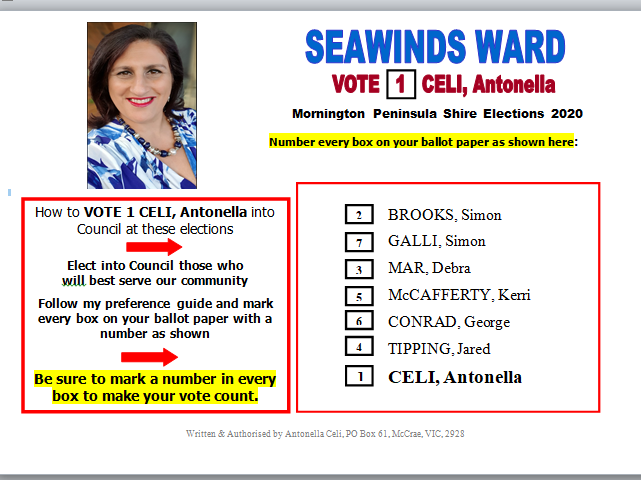 Categories: Election 2020 Candidate Alerts
/